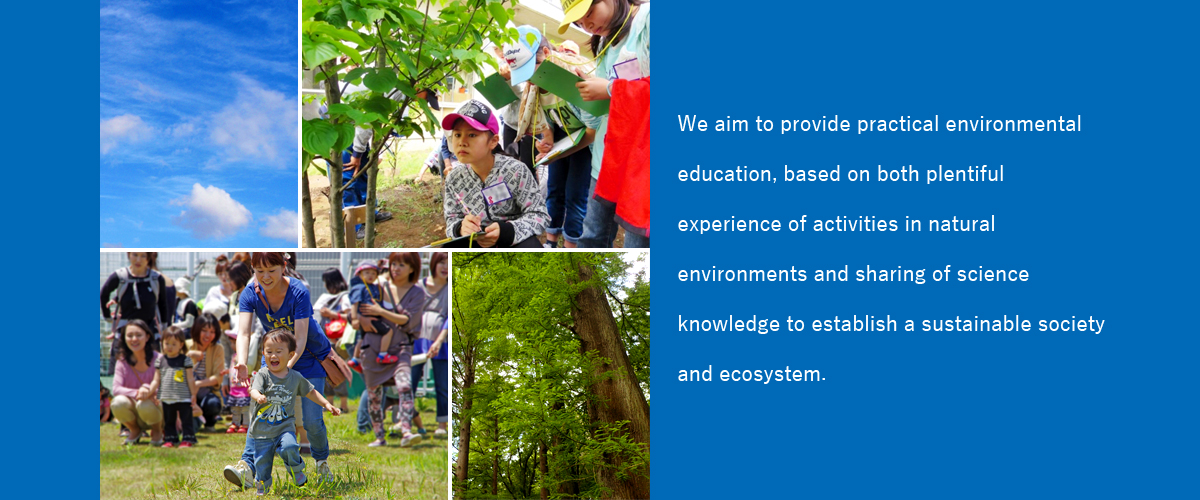 Nature Center Risen strives to broaden and enrich the public's minds and deepen scientific thinking through practical and experience-based environmental education centered on the natural sciences. We're active at educational institutions, communities, and anywhere we can serve the general public. Guided by education and research, we constantly strive towards the promotion of a sustainable society in harmony with the natural world.
Organization
Organization name
---
Nonprofit Organization Nature Center Risen
Foundation date
---
July 1, 2008 (certification 2008)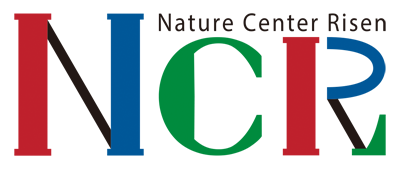 At the core of our ecosystem is Sun, Water, and Life. These are expressed in red, blue, and green, respectively.
Establishment background
---
People are also a part of nature and a living thing. In a word, it seems that such a natural thing has been forgotten in today's Japanese society. It's hard to feel how everyday life is related to the local environment. The effects of rapid social changes, including population growth, are now causing global warming, a global environmental problem. Droughts and water shortages caused by extreme weather are serious problems and have become one of the causes of conflict between countries. Now we need to work with the world to address this issue. …
It is important to develop people who can ask themselves why they were born and how they want to live. We will work on creating a society in which harmony with nature continues and that is the only way to protect all living environments living on the earth.
Excerpt from 'Publications of Establishment'
Director and Executive Board Members
President
---

Miyoko IWAMA
Born: 1956
We have been engaged in various fields such as education, welfare, community activities, natural environment conservation activities, and international cooperation for many years.
In addition to environmental education activities at educational institutions such as elementary and junior high schools, high schools, and universities, we are developing educational activities for a wide range of subjects, including infants, children's centers, school children's clubs, disability associations, lifelong learning organizations, and developing countries.
The ideal is to provide education that leads to the exposure of free sensibilities in fields such as science, art, and literature, while emphasizing original experiences centered on natural experiences.
He has served as a lecturer at the Environmental Education Workshop for Elementary School Teachers organized by the Tokyo Metropolitan Bureau of Environmental Affairs, an advisor on the exhibition planning and design in the renewal of the Tokyo Metropolitan Environmental Learning Center (central breakwater garbage final disposal site tour facility), a lecturer in the Tokyo Metropolitan Teacher training center (Environmental Education II), a member of the Tokyo Metropolitan Environmental Learning Environmental Education Promotion Liaison Committee, and a member of the Teacher development committee on volunteer activities in Tokyo Green.
External Evaluation Committee member, Meisei University, Environmental Counselor, Ministry of the Environment
Books: "Environmental Education Starting from the Schoolyard" (KYOIKU-SHUPPAN.Co.,Ltd.)
For the book, click here.
Vice President
---

Toshiharu ENOMAE
Professor, University of Tsukuba Graduate School of Life and Environmental Sciences.
HP is here.

Yutaka TAKENAKA
Biology teacher, The First High School, Tokyo University of Agriculture / The First Junior High School, Tokyo University of Agriculture.
Songwriter for "Song of the Sea Firefly" (Shinpusha)
Initiatives
Purpose
---
Nature Center Risen constantly considers where humans are, where we've been, and where we're going to go. We strive to foster nature appreciation through experiencing the natural world and fully appreciating the unique aspects of each season, and each region.
We understand the relationship between people and nature, and provide support towards creating a mutually beneficial relationship between humans and nature, as well as the integration of the natural world into the human environment.
Nature Center Risen advocates the creation of deep relationships between people through meaningful and memorable natural experiences with through the aim of sustainable environmental education.
Activities
1. Development of Science and Environmental Education
---
| | |
| --- | --- |
| | |
| Primary school: Lesson | Primary school: Lesson |
Junior-high school: Lesson
Teacher training:
Meeting of annual lesson plan with teachers
Infant education at community school:
Enviromental education course for
infants and parents
Administrative commission:
Enviromental education course for citizens
Planning of Classes and related activities.
Collaboration and integration of other academic subjects such as Science, Social Studies, Japanese, Art, and Math.
Teacher and instructor training and support.
Nature Observation meetings and seminars.
Cultural and Artistic Activities.
Collaboration with government, experts, companies, universities, NPOs, etc.
Ex.: Lesson implementation flow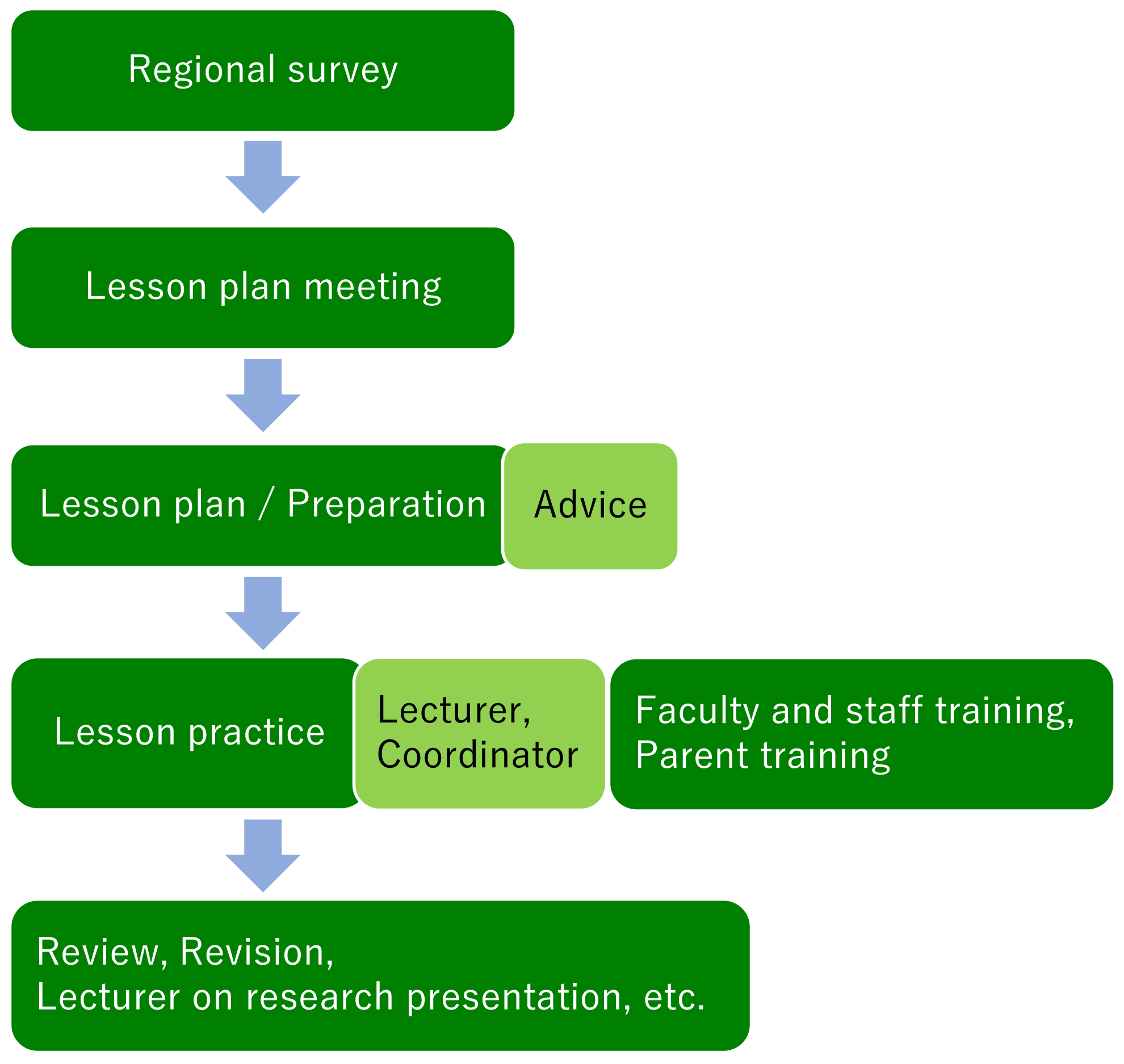 2. Development of Human resource
---
Teacher training:
Board of Education,Tokyo Metropolitan
Teacher training: Teaching materials
Instructors Training Instructors.
Study Group Lectures.
Acceptance of university and graduate interns.
3. Development of Educational Materials
---
| | |
| --- | --- |
| | |
| Classes using original educational materials | Production of original materials for education |
Development of original educational materials according to school education and community education regulations.
Pamphlets and teaching materials for local governments, public institutions, companies, etc.
Production of exhibition materials, etc.
Click here for more information.
4. International education support
---
Practical Environmental Education at Phnom Penh and Battambang Teacher Education College in the Kingdom of Cambodia
Cultural and educational support.
Kingdom of Cambodia: The project for Realization of sustainable life environment through mainly the teaching pratical environmental education in Teacher Education college (Ministry of Foreign Affairs, "Grant Assistance for Japanese NGO projects") and Environmental education and training for Ministry of the Environment staff, etc.
Socialist Republic of Vietnam: Environmental Education activities and awareness-raising activities in the promotion and demonstration project of environmental improvement technology using "Bio-Toilet" and "new purification device". (JICA re-commissioned project)
Socialist Republic of Vietnam: CHODAI CO., LTD, "Bio-Toilet" promotion and awareness activities.
5. Others
---
Aid for restoration from
the Great East Japan Earthquake
GLOBAL FESTA JAPAN 2019
Reconstruction support for the Great East Japan Earthquake. (Ofunato City Board of Education, Iwate Prefecture, Shiogama City, Miyagi Prefecture, etc.)
Planning and implementation of environmental events, etc.
About recruiting supporting members
Nature Center Risen is seeking individual and corporate supporting members who can support the mission of our environmental education activities.
The supporting member's dues will be used for the development and operation of the teaching materials necessary to carry out the activities of Nature Center Risen.
Supporting members have no obligation to participate directly in the operation of the corporation, as all operations can only be conducted by staff.
How to apply
---
Supporting member (individual) annual membership fee one time contribution of 5,000 yen.
Supporting member (corporate) annual membership fee one time contribution of 50,000 yen.
・ After submitting the application form and paying the annual membership fee, you will be registered as a member.
・ The annual membership fee for the first year is valid until March 31 of the following year.
Annual fee
---
Fill out the "supporting members" application form and send by fax or email.
⇒ Enrollment application PDF
⇒ Enrollment application Excel
Destination
---
Kindly email or fax to the following.
Mail : jimukyoku★naturecenter-risen.com (change "★" into "@")
FAX : +81-3-6413-6711
Benefits for supporting members
Individual Client Services
---
Sign up for Nature Center Risen newsletter.
Corporate Client Services
---
Would you like to become a supporter of NCR or inquire about our services?
If interested, we can provide consultation and information regarding educational activities provided by our staff.
Contact us
ADDRESS
---
#406 2-19-14 Miyasaka, Setagaya-ku, Tokyo,
156-0051, Japan.
TEL / FAX
---
+08-3-6413-6711
MAIL
---
jimukyoku★naturecenter-risen.com (change "★" into "@")